BITMAIN ANTMINER D3,the World's Most Powerful Dash miner!
Note: Your order is only final after we confirmed it by sending the invoice.
Note: Order without VAT (0%) with a EU company VAT number or by ordering from outside EU
Note: The price of dash mining machines must be adjusted frequently according to many factors, including Dash/USD exchange rate, the network difficulty, and expected difficulty increase. Refund requests based on price changes cannot be honored.
Note: Up to two years warranty instead of 180 days.
Antminer D3 Specifications:
a) Hash rate: 19 GH/s (Variation of ±5% is expected)
b) Power consumption: 1200W (at the wall, with Bitmain's APW3 PSU, 93% efficiency, 25°C ambient temp).
c) Dimensions of the miner: 320*130*190mm
d) Hashing algorithm: X11
Notes:
Power consumption figures will vary with your PSU's efficiency, the ambient operating temperature and the accuracy of the power meter.
PSU: A power supply unit is not included. You will need an ATX PSU with at least 9 six-pin PCIE connectors. There are 2 PCI-e connectors for +12V DC input on each hashing board and all 2 are required. Do not connect more than one PSU to the same hashing board!
We recommend the APW3++1600w power supply for use with the Antminer D3. One power supply supports one Antminer D3.
Separate power supply to control board: there is one additional 6pin PCI-e connector on the IO board which must be connected to the PSU to get power. Be sure to power on the miner only after all the 9 PCIE connectors are connected to power supply.
Antminer D3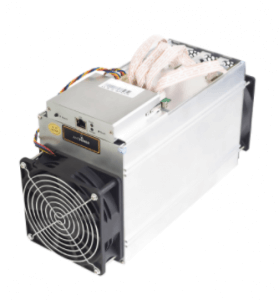 Antminer D3