BITMAIN ANTMINER L9,the World's Most Powerful scrypt miner!
*Unlike most sellers we ship from the Netherlands (EU zone)
*Order without VAT (0%) with an EU company VAT number or by ordering from outside EU.
*The price of mining machines must be adjusted frequently according to many factors, including cryptocurrency/USD exchange rate, the network difficulty, expected difficulty increase, stock availabilty or changes in the algorithm. Refund requests based on these factors cannot be honored.
*Up to two years warranty instead of 180 days.
*Best price in the EU!
Antminer L9 specifications
1. Hash Rate:  17.6G
2. Power Consumption: 3260W +5%
3. Power Efficiency: 0.1852 J/MH + 5%
4. Rated Voltage: 11.60 ~13.00V
5. Chip type: BM1485 (288 chips on four hashing boards, 72 chips on one hashing board)
6. Dimensions: 370mm(L)*195.5mm(W)*290mm(H)
7. Operating Temperature: 5 °C to 45 °C
8. Network Connection: Ethernet
9. Weight: 13.5 kg
10. Noise level: 75db
High Performance and Top Efficiency
The Bitmain Antminer L9 17.6G offers exceptional mining capabilities, combining high performance with energy efficiency. With a hashrate of 16.2G/S and a reliable variation range of -5% to +5%, this mining machine ensures consistent and efficient cryptocurrency mining operations. Its optimized design allows for reliable and powerful processing, maximizing mining output while maintaining stability. Furthermore, the Antminer L9 16.2G boasts a wall power consumption of 3260W/h, making it an energy-efficient choice that helps minimize operational costs.
Quiet and Convenient Mining
Noise reduction is a crucial consideration in any mining operation, and the Bitmain Antminer L9 17.6G excels in this aspect. With a noise level of ≤80db (Loud), this mining machine ensures a quieter environment, making it suitable for personal and commercial setups alike. It allows miners to focus on their operations without disturbances, creating a more comfortable working or living space. Additionally, the Antminer L9 17.6G offers convenient features such as a voltage input range of 200~240V and an Ethernet connection, simplifying its integration into existing mining setups. Its compact dimensions of 370mm × 195.5mm × 290mm and a weight of 13.5kg further enhance its practicality, optimizing space utilization without compromising on its impressive mining capabilities. With an operating temperature range of 0~40 ℃, this mining powerhouse ensures reliable performance even in varying environmental conditions, making it a versatile and dependable choice for miners seeking optimal efficiency and profitability.
The L9  comes with power supply included.
The power supply doesn't come with power cords. Please find two powercords with at least 10A from your local market.
Please kindly note that the required input voltage for S21 is 220V.
The shipping costs for this unit is €25,- in the EU zone. Please ask for a quote for shipping outside EU zone.
Clicking here to download the manual for installation.
Antminer L9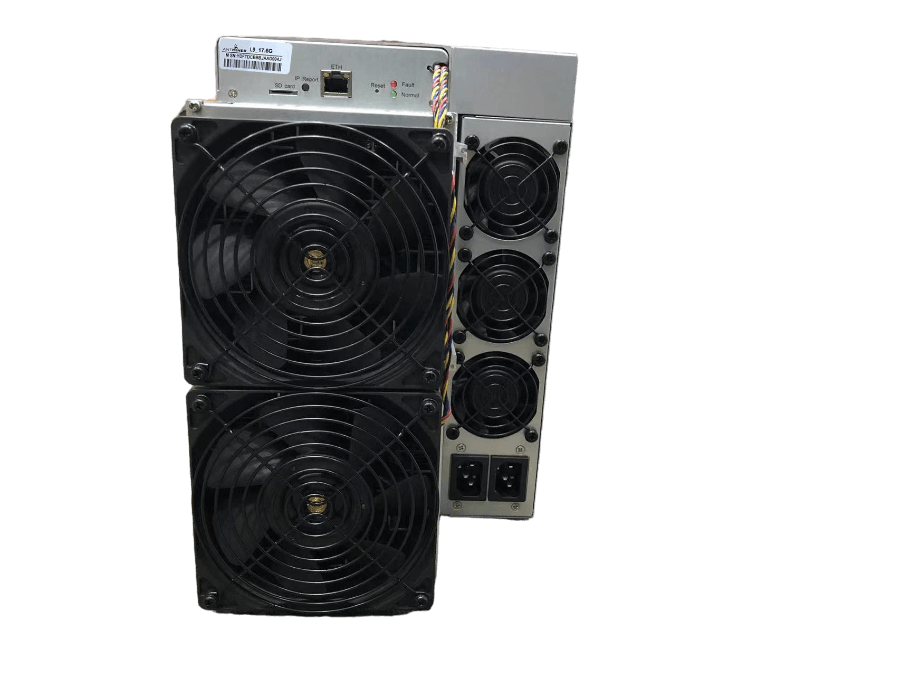 Antminer L9
Antminer L9