SUPER SALE: Antminer S19J Pro: 960 th/s Hashing Power! 
* 10x Antminer S19J Pro 96 th/s each.
* Shipping costs included.
* Ships out in 7-10 days upon receipt of payment!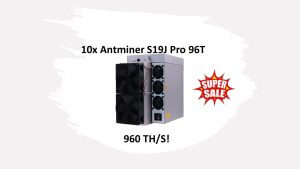 *Order without VAT (0%) with a EU company VAT number or by ordering from outside EU
*The price of mining machines must be adjusted frequently according to many factors, including cryptocurrency/USD exchange rate, the network difficulty, expected difficulty increase or changes in the algorithm. Refund requests based on these factors cannot be honored.
*Two years warranty instead of 180 days.
This is a selection of our great and special priced super sale bulkdeals. Special  offers will be updated on this page. So if you want to buy bulk orders for the best price make sure to visit this page frequently.
This offer is only valid as long as stock lasts!
Discount coupons are not valid in combination with this offer.

If you have any questions or you want to place an order please click here.