ANTMINER S21 Hydro, SHA-256, super efficiency with a top hashrate! Enter a new era of liquid cooling!
Bitmain revealed Groundbreaking S21 Hydro at World Digital Mining Summit 2023
BITMAIN revealed its flagship Antminer S21 Hydro at the World Digital Mining Summit 2023. The summit, took place in Hong Kong from September 22nd to 23rd, carried the theme "Building up for the Bull Market, Mining at the Right Time."
The S21 Hydro is the latest in Bitmain's liquid series, achieving an efficiency of 16 J/TH. This marks a significant leap from previous models like the S19 XP Hydro at 20.8 J/TH .
Sales will open in Q4 but delivery is planned Q1-Q2 2024.
Please subscribe to our newsletter to stay updated on more information soon!

Antminer S21 Hydro specifications
| | |
| --- | --- |
| Product Glance | |
| Model |                         S21 Hyd. |
| Algorithm | Cryptocurrency |                         SHA256 | BTC/BCH/BSV |
| Hashrate, TH/s |                         335 |
| Power on wall @25°C, Watt |                         5360 |
| Power efficiency on wall @25°C, J/TH |                         16.0 |
Detailed Characteristics
Power Supply
Power supply AC Input voltage, Volt(1-1)
380~415V AC
Power supply AC Input Frequency Range, Hz
50~60
Power supply AC Input current, Amp(1-2)
12
Hardware Configuration
Networking connection mode
RJ45 Ethernet 10/100M
Miner Size (Length*Width*Height, w/o package),mm(2-1)
339*163*207
Miner Size (Length*Width*Height, with package),mm
570*316*430
Net weight, kg(2-2)
12.3
Gross weight, kg
13.6
Environment Requirements
Inlet water temperature, °C
NEM(2-3)

HEM1(2-3)

HEM2(2-3)

35

45

50

Water flow, L/min
8.0~10.0
Water pressure bar
<=3.5
Working fluid(2-4)
Deionized water/Pure water
Liquid PH
8.5~9.5
Diameter of water pipe connector, mm
DN10
Storage temperature, °C
-20~70
Operation humidity(non-condensing), RH
10~90%
NOTE:
(1-1). The Hashrate value, Power on wall, and Power efficiency on wall are all typical values, The actual Hashrate value fluctuates by 3%, and the actual Power on wall and Power efficiency on wall fluctuate by 5%.
(1-2). Inlet water temperature.
(2-1). Caution: Wrong input voltage may probably cause server damaged.
(2-2). Three-phase AC input, 10 A per wire.
(2-3). NEM: Normal Energy Mode; HEM: High Energy Mode.
(2-4). If the water conductivity is ≥100 μs/cm, the fluid must be replaced. The water conductivity is less than 20 μs/cm when the system is running at the first time.
Clicking here to download the manual for installation.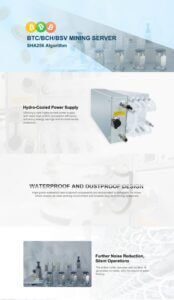 Antminer S21 Hydro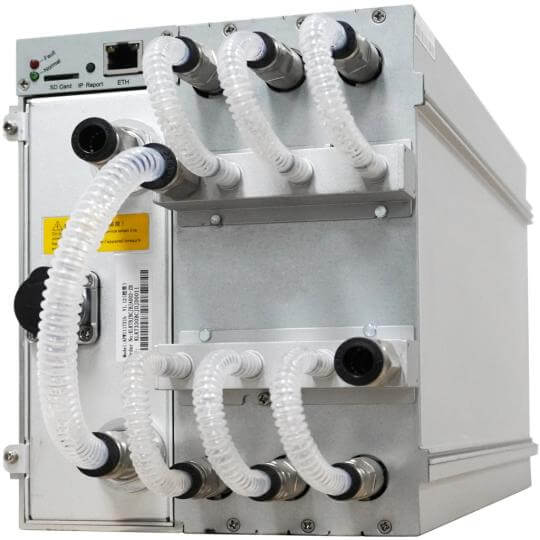 Antminer S21 Hydro front 2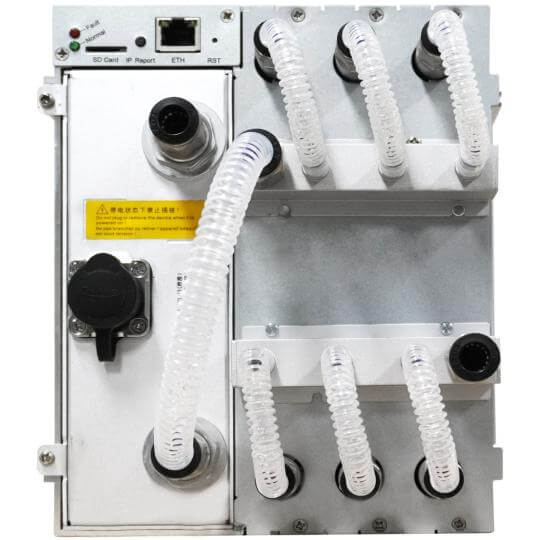 Antminer S21 Hydro front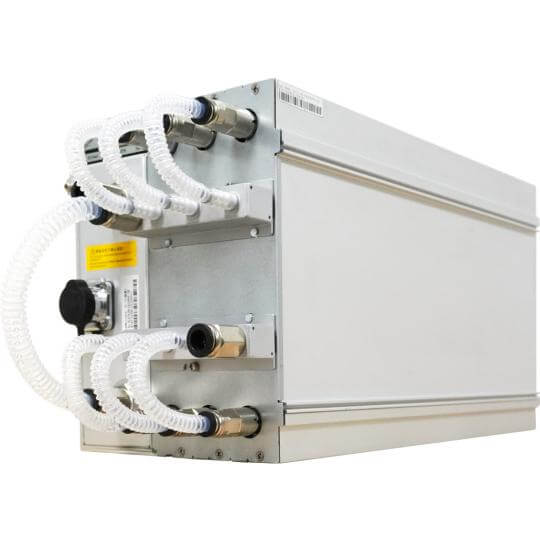 Antminer S21 Hydro side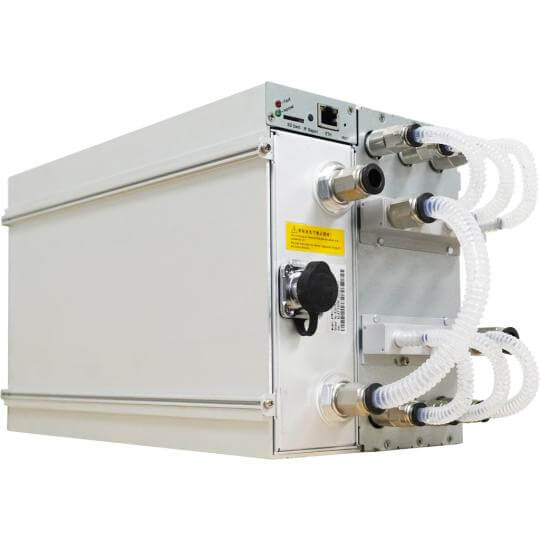 Antminer S21 Hydro