BITMAIN ANTMINER S17, SHA-256, Global optimization, evolutionary future!
*Unlike most sellers we ship from the Netherlands (EU zone)
*Your order is only final after we confirmed it by sending the invoice.
*Order without VAT (0%) with a EU company VAT number or by ordering from outside EU
*The price of mining machines must be adjusted frequently according to many factors, including cryptocurrency/USD exchange rate, the network difficulty, expected difficulty increase or changes in the algorithm. Refund requests based on these factors cannot be honored.
*Up to two years warranty instead of 180 days.
*Best EU pricing available!
Antminer S17 specifications
Product Glance

Value

                      Low Power                                         Normal

Model No.: 

Crypto Algorithm/Coins

240-Aa 

SHA256/BTC/BCH

Hashrate, TH/s

                    

35.00~53.00

                                     

53.00

Reference power on wall, Watt

                 

 1470~2226                                            2385

Reference power efficiency on wall @25°C, J/TH

                   42.00

. 

        

                                           45.00

Detailed Characteristics

Value

Min

 Typ

Max

Hashrate & Power

Hashrate, TH/s

Low Power

35~53.00

+3% (1-1)

Normal

 

53.00

52.95

Power efficiency on wall @25°C, J/TH

Low Power

42.00

44.95

Normal

45.00

48.15

Power efficiency on wall @40°C, J/TH

Low Power

43.66

46.72

Normal

47.05

50.35

Power on wall, Watt (1-2)

Low Power

1470 ~2100

2406

Normal

 2250

2666

Power supply AC input voltage, Volt (1-3)               

200

 220

240

Power supply AC input current, Amp(1-4)

Low Power

 6.68~9.55

12.03

Normal

10.23

13.33

Power supply Input AC Frequency Range, Hz

47

 50

63

Hardware Configuration

Quantity of hash chips

144

Quantity of hash boards

3

Networking connection mode

RJ45 Ethernet 10/100M

Miner Size (Length*Width*Height, w/o

package),mm(2-1)

298.2*178.0*296.6

Net weight, kg (2-2)

9.50

Noise, dBA @25°C (2-3)

 82

Environment Requirements

Operation temperature,°C

                 

0

 25

40

Storage temperature,°C

                 

-20

 25

70

Operation humidity, RH(no condensation)

                   

10%

 

90%
Notes:
(1-1)      In Low Power Mode, Max Hashrate is about Typ hashrate *103%
(1-2)      Min condition: 25°C, min J/TH, typical hashrate
              Max condition: 40°C, max J/TH, max hashrate
(1-3)      Caution: Wrong input voltage may probably cause miner damaged
(1-4)      Typ condition: min reference power, typical AC input voltage
             Max condition: max reference power, min AC input voltage
(2-1)      Including PSU size
(2-2)      Including PSU weight
(2-3)     Max condition: Fan is under max RPM(rotation per minute). 
The Antminer S17 comes with power supply included.
The power supply doesn't come with a power cord. Please find two powercords with at least 10A from your local market.
Please kindly note that the required input voltage for S17 is 220V.
The shipping costs for this unit is €25,- in the EU zone and €35,- for shipping outside the EU zone.
New Generation Cutting Edge Technology
Equipped with Bitmain's 2nd Generation 7nm chip process, delivers new feats of computational performance in mining cryptocurrency
2 Mining Modes, Modernized Mining
Adapt to various mining scenarios, customize and select the most suitable mode to achieve optimal profits. Normal and Low-power modes
Transcend Limits. Superb Processing Power
Designed and tested by the leading minds of the Antminer brand. The Antminer S17 achieves top of the line hashing power of 53 TH/s, a breakthrough for miners globally
Further Energy Savings
New generation chip pursues deeper improvements on power efficiency achieving 45 J/TH, generating more income to miners.
Antminer S17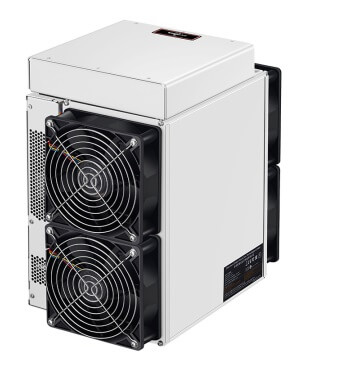 Antminer S17 back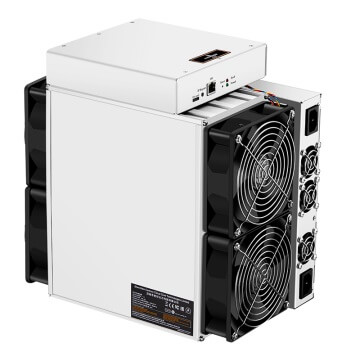 Antminer S17 side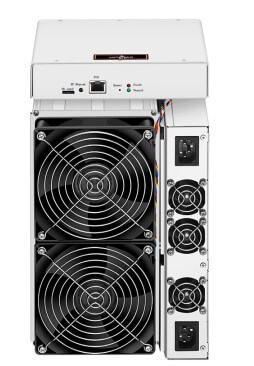 Antminer S17 front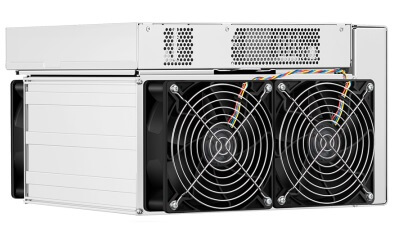 Antminer S17 back on its side