Note: Batch 2 : this item is gently used but in great condition
Note: Best price guaranteed!
Note: Business purchase without VAT possible for €2.230,- (purchase with VAT number)
Note: Bulk discount possible
We are proud to introduce the newest iteration of AntMiner, the Antminer S5 +. This model is comprised of three hashing modules, each of which is approximately the same form factor as the S5, with the addition of an extra hashing board located in the middle of each module. The new design squeezes 144 BM1384 chips into the same area that the Antminer S5 fit only 60 chips into.
Note: The price of bitcoin mining machines has to be adjusted often according to many factors, including BTC/USD exchange rate. But also the network difficulty, and expected difficulty increase. Refund requests based on price changes cannot be honored.
Specifications:
Hash Rate: 7722 GH/s ±5%
Power Consumption: 3436W (at the wall, with AC/DC 93% efficiency, 25Cambient temp)
Power Efficiency: 0.445W/GH (at the wall, with AC/DC 93% efficiency, 25Cambient temp)
Rated Voltage: 12V
Chip Process: 28nm
Chip quantity per unit: 432x BM1384
Dimensions: 275 mm x 372 mm x 155 mm
Cooling: 6x 12038 fan
Operating Conditions: 0 °C to 40 °C
Network Connection: Ethernet
Notes:
 Power consumption figures vary with your PSU's efficiency, the ambient operating  temperature and the accuracy of the power meter.
 PSU: A power supply unit is not included, and you will need to provide an ATX PSU. There are 3 PCI-e connectors for +12V DC input on each hash board and ALL of the 3 are required. Do not connect more than one PSU to the same hashing board!
You can still connect different modules with different PSUs.
We recommend using the APW3-12-1600-B2 for use with the Antminer S5+, however, please note that three PSUs are required to power one S5+.
Separate power supply to control board: there is one additional 6pin PCI-e connector on the IO board which must be connected to PSU to get power. When using several PSUs, be sure to power the hash boards first and the control board only after the hash boards have been powered.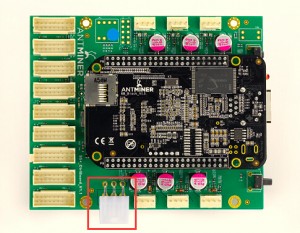 The three modules are linked together and operated with one controller board located on the middle unit. Customers must buy the set of three modules as one unit; We are not selling the individual modules of the S5+.
In addition to the higher hashrate, the AntMiner S5+ also achieves a better power efficiency than the standard S5. At 0.445J/GH, the S5+ is approximately 13% more efficient than its predecessor.
Comparison 
| | | | |
| --- | --- | --- | --- |
| | AntMiner S4+ | AntMiner S5 | AntMiner S5+ |
| Chip | 204x BM1382 | 60x BM1384 | 432x BM1384 |
| Hashrate | 2570GH/s | 1155GH/s | 7722GH/s |
| Power Draw | 1500W | 590W | 3436W |
| Power Efficiency | 0.58J/GH | 0.51J/GH | 0.445J/GH |
| Dimensions(mm) | 432*442*133 | 298*137*155 | 275*372*155 |
| Weight (boxed) | 14.4kg | 3.5kg | 11kg |
 A New Cooling Solution:
The S5+ uses an unpainted aluminum casing. It also does away with the larger heatsinks of previous models; instead each chip is fitted with its own small heatsink for greater heat dissipation. 
Each of the three modules contains two 12038 axial fans, one on each end. Each fan runs at approximately 4,200 RPM.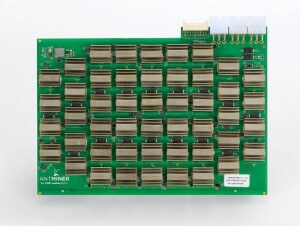 Hash board with heat sinks attached.
Warranty:
A 90-day warranty is provided starting from the shipping date. Overclocking the miner will void the warranty immediately.
All sales are final. No refunds will be given. Defective machines can be repaired for free under the warranty policy.
The following events will void the warranty:
Customer removes/replaces any components by himself without receiving permission from Antminer Distribution first;
Damage caused by poor power supply, lightning or voltage surges;
Burnt parts on hash boards or chips;
Miner/boards/components damage due to water immersion or corrosion due to wet environment.
Customer must return the defective parts at own expense after opening a support ticket and troubleshooting with our instructions.
The shipment cost is about €25,- all over Europe. The delivery time for your country can be found here.
Please also check out the latest offer of the Antminer S7!.
Antminer S5+ photos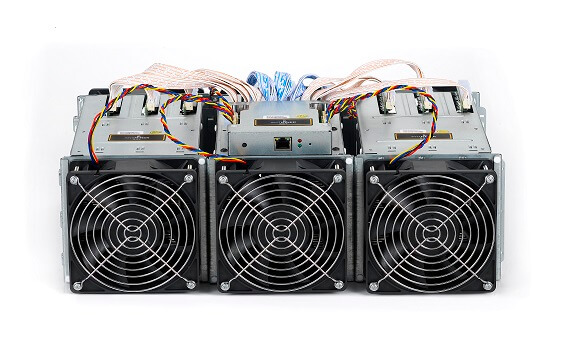 Front view with fans attached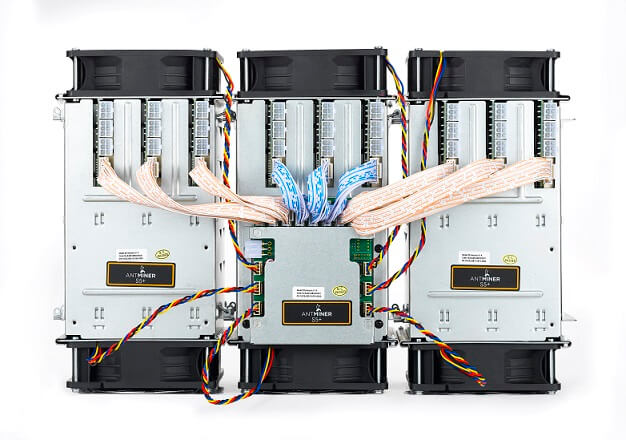 Overhead view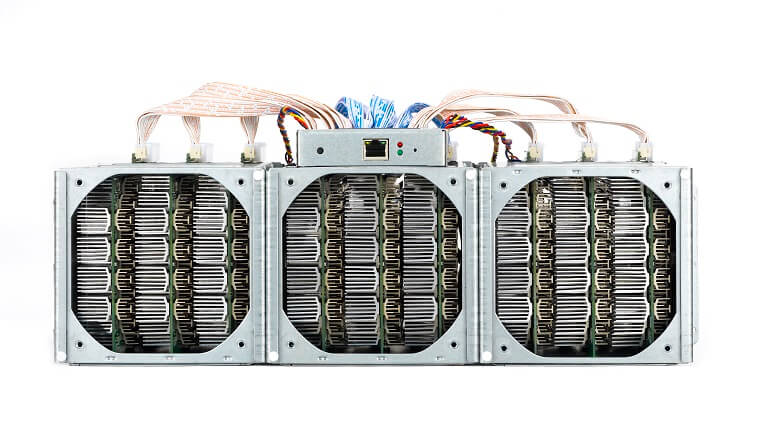 Front view (fans removed). Note the new heat sink configuration.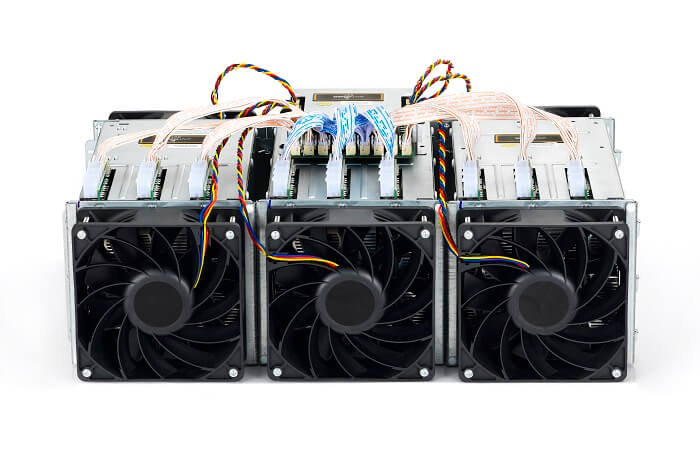 Rear view