Note: This batch ships out within 12 days after we received payment.  (first-order-first-paid.)
Note: Your order is only final after we confirmed it by sending the invoice.
Note: Order without VAT (0%) with a EU company VAT number or by ordering from outside EU
Note: Up to two years warranty instead of 180 days.
Specifications
Parameters of Radiators and accessories
NO.
Parameters
Value
1
Product model
S9 Hydro HEX (Radiators and accessories for S9-Hydro)
3
Total quantity of fan
6
4
Total quantity of pump
1
5
DC Power @12V DC input
31.7W+10%@25℃,max:69.2W
6
DC voltage input
11.60~13.00V
7
DC current input @12V DC input
3A+10%
8
Weight(without package)
5.2Kg
9
Operation temperature
0~40℃
10
Storage temperature
-40~85℃
11
Operation humidity
5%RH~95%RH,prevent condensation
12
Inlet water temperature
Minimum value: 3℃ above the dew point temperature or 15℃,whichever is higher.
Maximum value: 55℃
13
Inlet water flow rate
5L/min≤flow≤10L/min
14
Hydrostatic pressure
Normal hydrostatic pressure:50KPa
Maximum hydrostatic pressure:100KPa
15
Noise
45dBA@25℃(max:58dBA、min:26dBA)
16
Fan connection mode
4-Pin ,DIP,pitch2.54mm.
pin1:GND,pin2:12V,pin3:FAN_SPEED,pin4:FAN_PWM
17
Pump connection mode
4-Pin ,DIP,pitch2.54mm.
pin1:GND,pin2:12V,pin3:blank,pin4:blank
18
Size (Length*Width*Hight)
520mm*140mm*340mm
19
Inlet&outlet
G1/4
20
Water tube(ID*OD)
8mm*12mm
Radiators & Accessories for S9 Hydro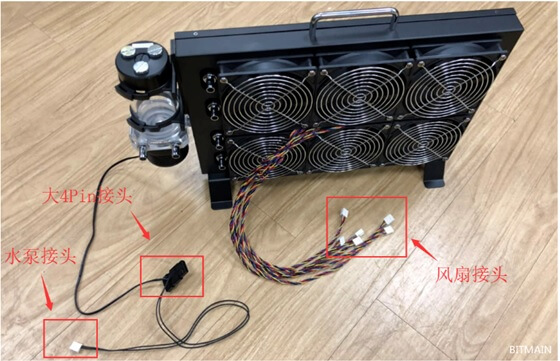 Radiators & Accessories for S9 Hydro