BITMAIN ANTMINER DR5, Blake256R14 – Decred
*Your order is only final after we confirmed it by sending the invoice.
*Order without VAT (0%) with a EU company VAT number or by ordering from outside EU
*The price of mining machines must be adjusted frequently according to many factors, including cryptocurrency/USD exchange rate, the network difficulty, expected difficulty, stock availability or changes in the algorithm. Refund requests based on these factors cannot be honored.
*We offer up to two years warranty instead of 180 days.
*Best EU pricing available!

Antminer DR5 Specifications:
Detailed Characteristics
Value
Min
Typ
Max
Hashrate & Power
Hashrate, TH/s
Normal
Lower Power
35.00
25~26.00
33.95
+3%(1-1)
Power efficiency on wall @25℃, J/TH
Normal
Lower Power
46.00
40.00
49.22
42.80
Power efficiency on wall @40℃, J/TH
Normal
Lower Power
47.53
41.42
50.86
44.32
Power on wall, Watt (1-1)
Normal
Lower Power
1610
1000
1828
1187
Power supply AC input voltage, Volt (1-2)
200
220
240
Power supply AC input current, Volt (1-3)
Normal
Lower Power
7.32
4.55
9.14
5.94
Power supply Input AC Frequency Range, Hz
Normal
Lower Power
47
50
63
Hardware Configuration
Networking connection mode
RJ45 Ethernet 10/100M
Miner Size (Length*Width*Hight, w/o package), mm (2-1)
238*178*297
Net weight, kg  (2-2)
7.75
Noise, dBA @25℃  (2-3) 
76
Environment Requirements
Operation temperature, ℃
0
25
40
Storage temperature, ℃
-40
25
85
Operation humidity, RH
5%
95%
Notes
The Antminer DR5 comes with power supply included.
The power supply doesn't come with a power cord. Please find a powercord with at least 10A from your local market.
Please kindly note that the required input voltage for DR5 is 220V.
The shipping costs for this unit is €25,- in the EU zone. Shipping costs outside EU zone is on request.
Notes:
(1-1)       In Low Power Mode, Max Hashrate should be Typ hashrate *103%
(1-2)      Min condition: 25°C, min J/TH, typical hashrate Max condition: 40°C, max J/TH, max hashrate
(1-3)      Caution: Wrong input voltage may probably cause miner damaged
(1-4)       Typ condition: min reference power, typical AC input voltage Max condition: max reference power, min AC input voltage
(2-1)       Including PSU size
(2-2)       Including PSU weight
(2-3)       Max condition: Fan is under max RPM(rotation per minute).
Antminer DR5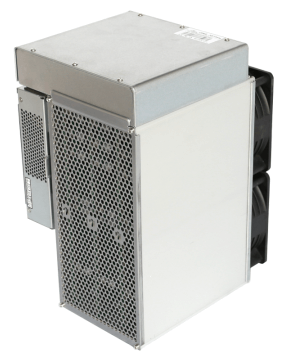 Antminer DR5 back right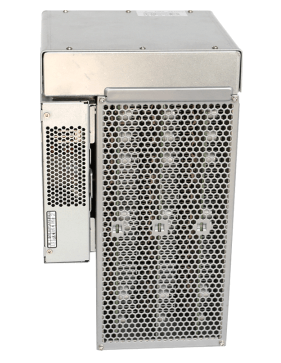 Antminer DR5 back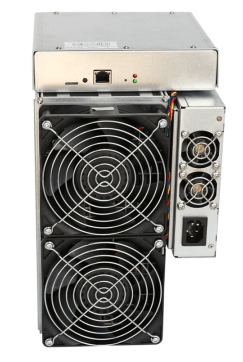 Antminer DR5 front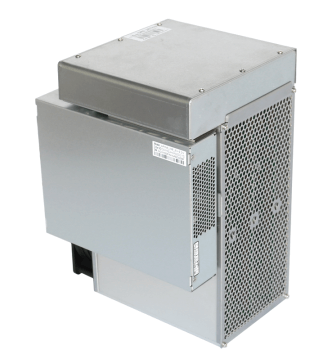 Antminer DR5 side PSU