BITMAIN ANTMINER Z11, Equihash, Exceptional Computing Power, immense energy Savings!
*Your order is only final after we confirmed it by sending the invoice.
*Order without VAT (0%) with a EU company VAT number or by ordering from outside EU
*The price of mining machines must be adjusted frequently according to many factors, including cryptocurrency/USD exchange rate, the network difficulty, expected difficulty increase or changes in the algorithm. Refund requests based on these factors cannot be honored.
*Up to one warranty instead of 180 days.
*Best EU pricing available!
*LIMITED STOCK!
Antminer Z11 Specifications:
| | |
| --- | --- |
| Product Glance | Value |
| Model No. | 240-Z |
| Crypto Algorithm/Coins | EquiHash/Zcash |
| Hashrate, KSol/s | 135 |
| Reference power on wall, Watt | 1418 |
| Reference power efficiency on wall @25°C, J/Ksol | 10.50 |
| Adapted AC/DC output requirement, Watt/ Volt | 1729/ 12.00 |
Detailed Characteristics

Value

Min

Typ

Max

Hashrate & Power 

Hashrate, KSol/s

135

142

Power efficiency on wall @25°C, J/KSol(1-1)

10.50

11.24

Power efficiency on wall @40°C, J/KSol(1-2)

11.01

11.78

Reference power on wall, Watt (1-3)

1418

1673 

DC input voltage range, Volt (1-4)

11.60

12.00

13.00

DC input current range, Amp (1-5)

109.90

134.13

Adapted AC/DC output power requirement, Watt (1-6)

1556

1729

Hardware Configuration

Quantity of hash chips 

9

Quantity of hash boards

3

Networking connection mode

RJ45 ethernet 10/100M

Miner Size (Length*Width*Height, w/o package),  mm

 (2-1)

242*134*302

Net weight, kg (2-2)

5.40

Noise, dBA @25°C (3-1)

70

Environment Requirements

Operation temperature,°C

0

25

40

Storage temperature,°C

-40

25

85

Operation humidity, RH

5%

95%
Notes:
(1-1) Refers PSU power conversion efficiency of 93%
(1-2) Refers PSU power conversion efficiency of 93%
(1-3) Min condition: 25°C, min J/KSol, typical hashrate
Max condition: 40°C, max J/KSol, max hashrate
Refers PSU power conversion efficiency of 93%
(1-4) Caution: Wrong input voltage may probably cause miner damaged
(1-5) Typ condition: min reference power, typical DC input voltage
Max condition: max reference power, min DC input voltage
(1-6) Min condition: 40°C, max J/KSol, max hashrate,
    PSU output power should be no less than the min value to make sure mining stable.
Typical condition: (typical power) = (min power)/90%, leave power output margin for PSU.
         Caution: It is strongly recommended that using typical power can make sure your miner can work well.
         You can use one PSU to power multiple boards. Do not attempt to power one board with more than one PSU.
         All PCI-E ports are required to plug in while powering up the board.
(2-1) domestic and international version
(2-2) domestic and international version
(3-1) Max condition: Fan is under max RPM(rotation per minute).
You will need an ATX PSU with sufficient 7 six-pin PCIE connectors. All PCIE connectors on a hashing board need to be connected to the PSU for the hashing board to operate.  We recommend the APW7 to power the Antminer Z11.
The power cord is not included, please find one with at least 10A from your local market.
Exceptional Computational Power
The Antminer Z11 achieves a remarkable hashing performance of 135 KSol/s, 3X more power compared to its predecessor. Become a leader of the Equihash platform.
Immense Energy Savings
The new chip design and circuit configuration provides an impressive power efficiency of 10.5 J/KSol, saving up to 60%, providing more income to miners.
Enhanced Processing Power & Lightweight
Enhanced performance is attained effortlessly through the processing power of the TSMC 12nm chip. Even though the Antminer Z11 packs in three times more hashing power than the Antminer Z9, at 5.4 kg, it weighs slightly less than its predecessor.
An Entirely New Design, Added Safety
A new generation design, effectively prevents dust and improves the stability and safety of the miner.
Antminer Z11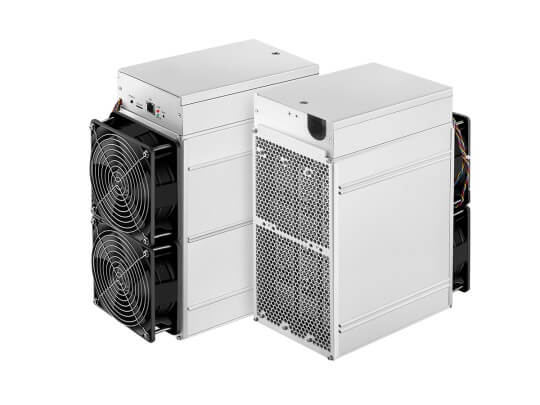 Antminer Z11 back