Note: Best price guaranteed!
Note: Business purchase without VAT possible (purchase with VAT number)
Note: Price varies and is in relation to the value of the bitcoin.
The enormously powerful and power efficient Antminer S4+  2,57 TH/S is now available! The AntMiner S4+ is an upgrade of the Antminer S4. It uses the state of the art BM1382 chip powered by the 28nm tech process with ultra-low power consumption.
The S4+ hashes at 2,57 th/s consuming only 1480 watt.
Specifications
Hash Rate: 2570GH ±5%
Power Consumption: 1480W (at the wall)
Power Efficiency: 0.58J/GH (at the wall)
Chip Quantity per unit: 204 x BM1382
Chip process: 28nm
Quantity of hash boards: 4
Hash board structure: String design
PSU built-in: 1600W (205V – 264V AC)
LCD: not included
Buzzer: not included
Dimensions: 432mm*442mm*133mm
Certified By: FCC / CE
Network Connection: Ethernet
The S4+ retains the same dimensions as the original S4, in a rack-mountable 3U sized case.
Please note:
The included PSU cannot be used in countries with a mains power voltage lower than 205V. The PSU will not start below this voltage.
The PSU is designed by Bitmain. The headache around the S4 PSU will not happen again.
Please prepare the power cord by yourself.
Please be aware this mining rig is very noisy(70 dB) .
The product is slightly used by the factory and due to testing periods and the unstable air quality around the factory, there may be dust on machine when you receive it.
Comparison 
| | | | |
| --- | --- | --- | --- |
| | AntMiner S4 | AntMiner S5 | AntMiner S4+ |
| Chip | 160x BM1382 | 60x BM1384 | 204x BM1382 |
| Hashrate | 2000GH/s | 1155GH/s | 2570GH/s |
| Power Draw | 1380W | 590W | 1500W |
| Power Efficiency | 0.69J/GH | 0.51J/GH | 0.58J/GH |
| Dimensions(mm) | 432*442*133 | 298*137*155 | 432*442*133 |
| Weight (boxed) | 16.2kg | 3.5kg | 14.4kg |
Delivered within several days all over Europe!  Warranty included!
Get extra discount when you order multiple units.
(€25,- shipping costs all over Europe!)
Antminer S4+ photos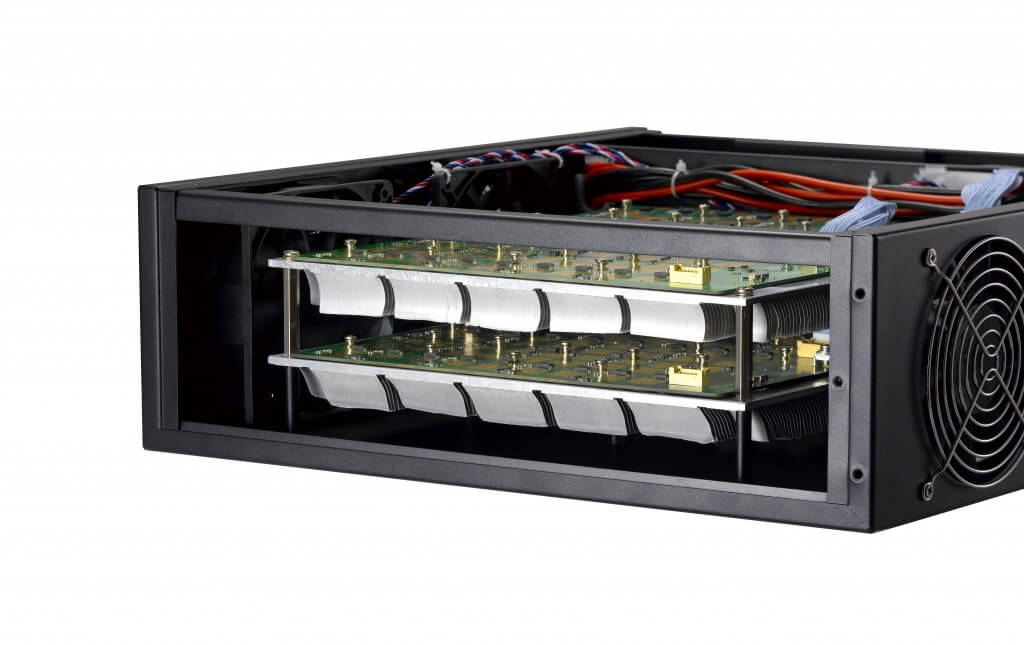 Antminer S4+